I have mentioned diet changes that I've made recently, and while it's still an experiment in many ways, I'm ready to share it with you.
Background
This year I have battled numerous bladder infections—something I have never had problems with before.  Most of the time my symptoms are not typical.  I don't have pain or burning, only fatigue and an inability to think or concentrate, making it difficult to function.
The source of my infections is not the typical E-coli but rather group B strep.  Which means that many remedies that work for other people don't work for me.  I am generally not in favor of antibiotics, but since I so rarely take them and I didn't want the infection moving to my kidneys, I did use them.  I tried different kinds and for different amounts of time.  None of them completely got rid of the infection and some didn't help at all.
I have seen a urologist and had various tests done, but no reason for the infections was found.
I have tried a variety of natural remedies including cranberry pills, D-Mannose, allicin (garlic), monolauric acid, apple cider vinegar, and juicing.  I have even gone to an acupuncturist.  Things get better for a while and then get worse.  The battle is not over, and I'm continuing to struggle with it even as I write this.
Changes
Earlier this summer I decided to make changes to try and improve my health.  I started by going sugar free for the month of August.  Originally I eliminated refined sugars and soon eliminated almost all sugars.  I increased my exercise by adding yoga and strengthening exercises to my daily routine.
Thanks to Jill's prompting, I also explored dietary changes.  I started by taking the nutritional typing test and getting more information.   Later I ordered The Metabolic Typing Diet
, a book that contains a longer self test as well as interesting background information and answers to some of the questions I had.
I learned that I am a protein type and began making dietary changes right away.  I noticed a difference in my energy level immediately and began to lose weight.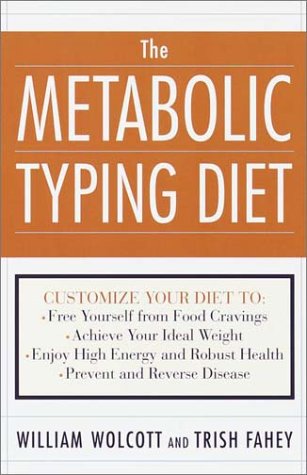 Metabolic/Nutritional Typing
There are many diets out there, and I'm not just talking about weight loss diets.  Gluten-free, vegan, paleo, specific carbohydrate, etc.  are all examples of diets that people eat to maintain good health.  It makes sense to me that there is not one diet that fits everyone's needs, and that an individuals' needs can change over time.
That's what the metabolic or nutritional type diet is all about.  Feeding your body the foods that it needs according to your metabolism.  There are three general metabolic types:  Carb, Mixed, and Protein.
The key to each type is maintaining the correct ratio of protein, fat, and carbohydrates.  Keep in mind that vegetables are considered a source of carbohydrates.  Once you try the basic diet plan and are feeling good, you can slowly add or remove foods to find what works for your body.
I tested (more than once) as a protein type.  That means I have been eating lots of meat, particularly grass fed beef, fat (animal fat, coconut oil, and olive oil), and a smaller amount of limited vegetables.  Occasionally I have a small amount of fruit after a meal.  I have eliminated grains and don't plan to reintroduce them until I have lost more weight.
The protein type diet is probably the most restrictive diet, yet I don't feel like I'm depriving myself.  Here's why.  When I am feeling well (not dealing with a bladder infection) and eating this diet I:
Am satisfied after I eat a meal
Don't crave sugar or carbs
Seldom snack
Don't feel hungry
Have a good amount of energy
Naturally lose weight
So honestly, it's not difficult for me.  I'm not spending time thinking about what I can't eat.  Food doesn't drive me; it fuels me.  Wow.  I just thought of that line and it's worth repeating.  Food no longer DRIVES me; it FUELS me.
This post is already longer than what I usually write, so I'll leave you with that to think about.  Next week I'll tell you a little more about how the diet is working out for me.
Disclosure: This post contains one or more affiliate links. If you click on a link and buy something, I receive a small percentage of the sale.