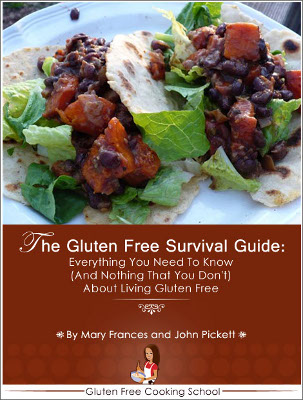 If you have done much looking for gluten-free recipes and information on the Internet, then you have probably come across Gluten Free Cooking School (GFCS).  In case you are not aware, they have a new eBook, The Gluten Free Survival Guide: Everything You Need to Know (And Nothing That You Don't) About Living Gluten Free by Mary Frances and John Pickett.  I recently had the pleasure of being contacted by Mary Frances and the opportunity to review their book.
This survival guide is thorough and practical.  It will be especially helpful to those who are brand new to the gluten-free diet.  It covers the basics of the gluten-free diet as well as topics such as whether or not to have a totally gluten-free kitchen, menu planning, eating out, and nutrition.
Mary Frances and John take the gluten-free diet very seriously.  While I disagree on a couple of points (for example, I believe that most grain alcohol is safe because of distillation), I'm glad that they take a conservative approach and encourage you to be careful.
In addition to the 87 page survival guide, purchasers receive a 17 page cookbook, a list of safe and unsafe ingredients, a 1 week meal plan with shopping list, a meal planning worksheet, a food journal template, and a diet and nutrition checklist.  The price for this basic package is $20 and for only $2 more you can also get an audio version of the Survival Guide.  I think that's a fair price for what you are getting.
I want to be completely honest with you all and tell you that I am part of their affiliate program.  That means I will receive some commission from any sales made through a link for this product on my site.  You can click here to visit GFCS and find out more about the Survival Guide.
The Giveaway
The authors are offering one free copy of  The Gluten Free Survival Guide as a giveaway.  Since this is an electronic download there is no location limitation.
To enter you must leave a comment on this post, not on my Facebook page and not an email.  If you receive my updates by email, click on the title and it will take you to my blog page where you can leave a comment.
Leave a separate comment for each entry.
Leave a comment on this post
Post this giveaway on your Facebook page
Mention this giveaway in a blog post
Tweet about the giveaway (include @gfhomemaker)
The giveaway will end on Friday, March 11th at 11:00 pm eastern time.  The winner will have 24 hours to respond after being contacted.  The winner will be posted on my Facebook page.
Disclaimer:  I was provided with free copy of this eBook, but the opinions in this post are my own.