This is a Sponsored post written by me on behalf of Pompeian for SocialSpark. All opinions are 100% mine.
A number of the recipes on my site use olive oil for cooking or baking.  However, I rarely use olive oil in those recipes anymore.  Instead, I substitute an oil with a higher smoke point.  I do still use olive oil on salads or in cold recipes such as hummus.
Pompeian is known for its olive oil, but they want to share a lesser known oil with you—grapeseed oil.  Grapeseed oil has health benefits that are similar to olive oil, but it has a lighter taste and a high smoke point, making it a perfect substitute for olive oil that is used in high-heat recipes.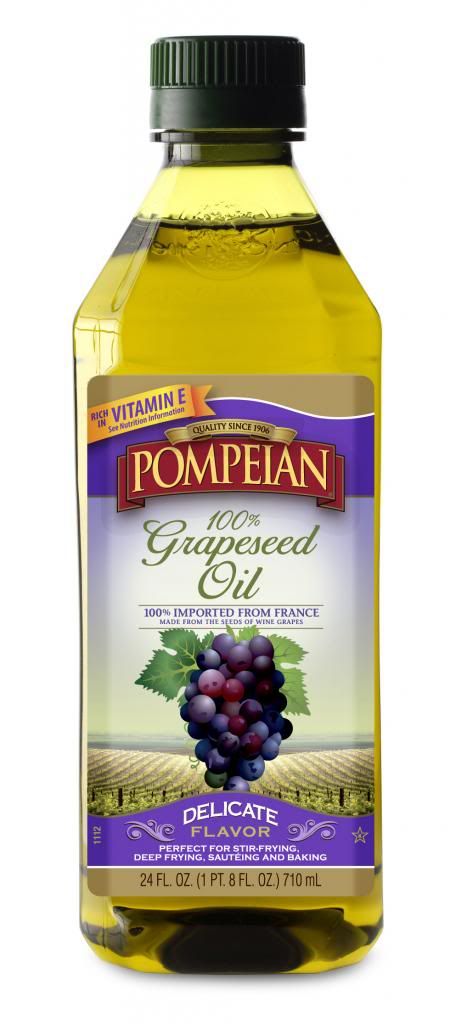 Food Blogger Contest
If you are a food blogger, Pompeian would like to invite you to participate in their contest for a chance to win an all-expense paid trip to BlogHer Food '13 in Austin, Texas, June 7 – 8.  Plus, your recipe will be featured with Pompeian throughout the event!
Pompeian and Hungry Girl are challenging bloggers to change their  oil by re-imagining a recipe that uses butter or vegetable oil.  Instead, try Pompeian's Grapeseed Oil or OlivExtra Premium Mediterranean Blend.
Simply post the recipe along with a photo on your blog, head to Pompeian's Time to Change Your Oil App to share a link to your blog, enter your contact information, and click submit! The winner will be selected by Hungry Girl Lisa Lillien.  The contest ends April 30th.
I am hoping to enter the contest because I'd like to try using grapeseed oil in several of my recipes.  Also, I have attended BlogHer Food before and would love to go again this year!  Let me know if you plan to enter the contest and why you want to win.
A Recipe from Pompeian
Food blogger or not, you're sure to enjoy this easy recipe for Smoky Fried Chickpeas.
Smoky Fried Chickpeas
Ingredients
1 cup Pompeian Grapeseed Oil
1/2 teaspoon dried thyme
3/4 teaspoon salt
2 large cans chickpeas, drained and rinsed
1 Tablespoon grated lemon zest
2 teaspoons smoked paprika
Instructions
Dry chickpeas thoroughly with paper towels.
Using a candy thermometer, heat oil in a large, deep skillet over medium-high until it reaches 355 degrees. Add chickpeas, zest and thyme to pan in batches to avoid overcrowding.
Fry chickpeas for about 5 minutes or until deep golden brown. Remove to a paper-towel-lined baking sheet and sprinkle with paprika and salt. Serve immediately.